PRODUCTION TEAM

Stella Maris Films produces documentaries about all facets of the natural world. Our headquarters are located in Cologne.
© Bernd Nies / The team of Stella Maris Films in the strait
Daniele Grieco, Producer-Director-Author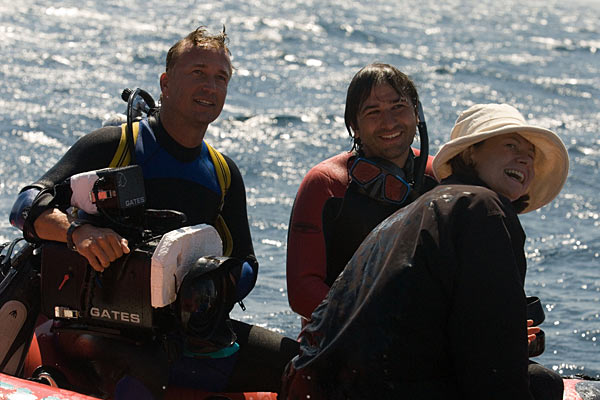 © Bernd Nies / from left to right: Michael Weyhers, Daniele Grieco, Kathleen Herbst
THE LAST GIANTS is Daniele Grieco's first feature-length documentary. Daniele was born and raised in Cologne. His father is Italian, his mother German. After three years as reporter for West German Broadcasting (WDR) in Cologne, Daniele attended New York University and the New School of Social Research from 1995 to 1999, studying film production. Several opportunities to write and direct feature series and commercials for German television enabled him to return to Cologne, where he worked for Grundy, Vox and Kinowelt.
As a schoolboy, Daniele was mesmerized by the films of Jacques Cousteau, and the master of underwater filmmaking has remained his most significant hero.
During a surfing vacation in 2006, Daniele met Katharina Heyer quite by accident, while she was leading one of her Whale Watching Tours. That chance encounter led to the making of THE LAST GIANTS.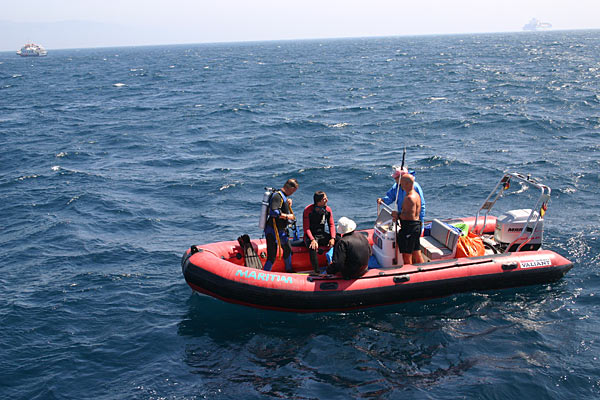 CAMERA CREW
Kathleen Herbst is a highly-regarded camerawoman in both documentaries and feature films. She completed her studies at Hamburg University by making the prize-winning film HERE WITH ME ("Hier bei mir") with Tanja Brzakovic. She also studied film theory at the Freie University in Berlin and photography at L'Ecole des Beaux Arts in Paris. Since then, she has won recognition for her numerous documentaries, features, music videos, image films and commercials.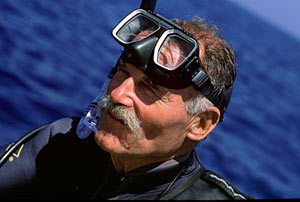 Herwarth Voigtmann is one of the best known underwater photographers of our time. He has achieved a huge international reputation with his photographs of sea life. His spectacular photographs of sharks have appeared in books and magazines around the world. His collection of photos entitled "Humans and Animals" has been recognized for its powerful images and unsurpassed beauty. Mondo Sommerso Italy recently named Voigtmann "Germany's Finest Underwater Photographer."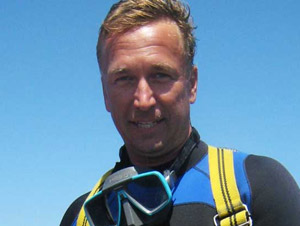 In 1996, Michael Weyhers completed his first underwater work for the ARD television series ADVENTURE IN THE WILDERNESS ("Abenteuer Wildnis"). In succeeding years, he filmed several more underwater films including GREAT BARRIER REEF. Above water, Michael Weyhers has been busy filming the German television comedy series THE BRAZEN TRIO ("Die dreisten Drei). When he's not filming, Weyers also teaches diving.
After completing his studies in zoology and natural sciences, underwater cameraman and marine biologist Gerd Hägele worked in Australia as a biologist, diving teacher and underwater photographer. Later, he returned to Germany to become science editor for a large online firm and as consultant at the FWU Institute for Film and Pictures in Science and Teaching. His greatest desire is to share his fascination with the sea and its creatures and persuade people to join in protecting this fragile endangered world.
FURTHER CREW MEMBERS
Underwater Cameraman Francisco Gil Vera, Turmares
Assistant Director Kyra-Isabelle Hartig
Sound Recording Oliver Lumpe
Assistant Skipper Norbert Spannagel
Film Editor Achim Schunck
Sound Design and Original Music Stefan Mohr, Mohrmusic
5.1 Mix Ingo Schnorrenberg
Postproduction qatsi.tv
Color Grading CinePostproduction